Sunday, May 22, 2005
Witness "Y" fronts court.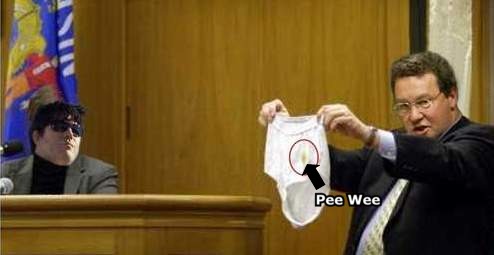 Today, heavily disguised secret witness known only as "Y", told a clothed session of the Supreme Court that pictures of Saddam Hussein in his underpants appearing in The Sun, owned by Australian-born media mongol Rupert Murdoch, and shown around the world on TV and in newspapers were fakes.
Under gruelling questioning by District Attorney Alexander Destry L'Estrange IV, witness "Y" commented, "It really started out as bit of a jape. A few chinas and meself thought we'd do a tribute to the "Uri Geller Memorial Shroud of Turin". So we came up with the "Undies of Baghdad" upon which stains forming the image of St. Pee Wee Herman could be seen. It sort of got out of hand when the Sun called in eminent historian Hugh Bruce-Trevor-Roper who, after exhaustive DNA-BVD testing declared, "I am now satisfied that the al-Tikriti underdaks are authentic; that the history of their wanderings since 1996 is true; and that the standard accounts of Saddam's evacuation habits, of his personality and, even, perhaps, of some public events, may in consequence have to be revised."
"We didn't mean no harm, but when Rupert offered us $2 million well, yerz can't look yer gift whores in the mouth."
Subscribe to Posts [Atom]